Description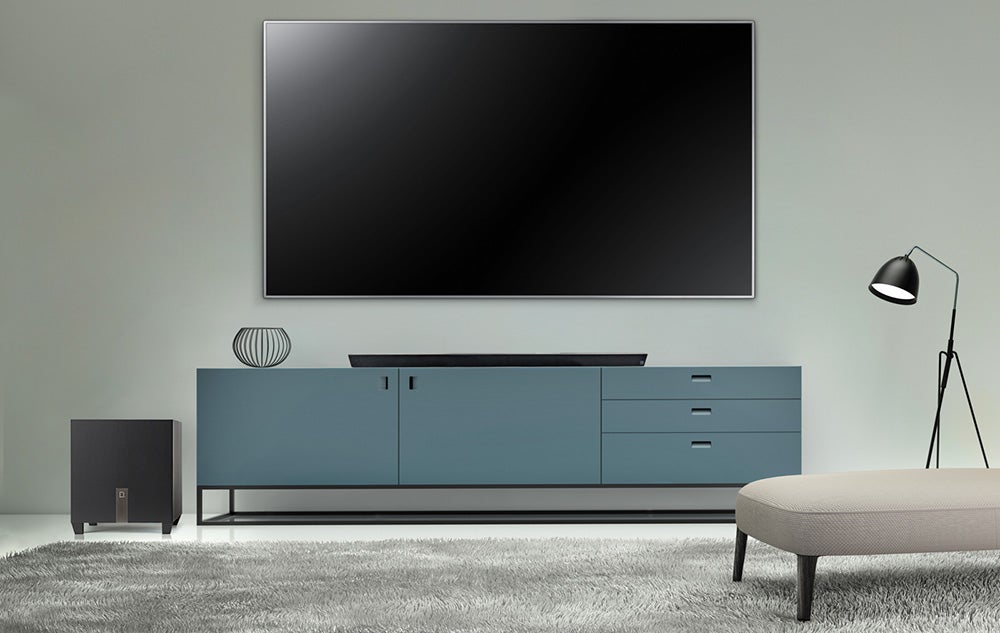 Ultra-slim 3.1 Sound Bar System with Chromecast Built-in
The 3.1 channel Studio Slim delivers ultra-precise, high-resolution home theater sound in an ultra-sleek compact bar, while the wireless subwoofer offers tight, accurate bass for high-impact action scenes and full-range soundtracks. Watch movies with room-filling sound, and stream music over Bluetooth or Wi-Fi with Chromecast built-in. Send audio from your TV to the sound bar by connecting via HDMI ARC with the included HDMI cable, and use your TV remote to control the bar. One-button presets for Movies, Music and Night Mode optimize the Studio Slim sound bar and subwoofer.
Sleek, Compact Elegant Design
Studio Slim features a brushed dark-aluminum top panel for a sleek, minimalist look. At 1.75? thin, Studio Slim blends seamlessly into any home environment and won?t block your TV?s bottom edge.
Tight, Accurate Bass
Paired with the Studio Slim sound bar, the included 8? wireless subwoofer reproduces deep bass and extends the overall sonic range. Feel the low-end frequency of an action scene or full-range soundtrack with tight, accurate bass and room-filling sound.
HDMI ARC
Hear and feel precision sound ? and enjoy seamless control ? via a single HDMI cable. HDMI ARC sends audio from smart TV built-in apps and sources connected directly to the TV to the Studio Slim. Control the sound bar?s core functionality with your TV remote.
Stream Music Wirelessly with Chromecast Built-in
Stream music from your favorite apps over Wi-Fi and hear them with enhanced definition and depth. Connect the sound bar to other Chromecast-enabled speakers in the Google Home app to create a whole home audio system ? and use voice commands to control your music.
Adjustable Center Channel
Control voice levels in the center channel and hear dialogue from TV shows and movies with the utmost clarity
Bluetooth built-in
Stream music directly from your smartphone, tablet or other compatible device with Bluetooth built-in
EQ Modes
One-button EQ presets for Movies, Music and Night optimize the Studio Slim sound bar and subwoofer system response. Watch your favorite movies and shows with crystal clear dialogue, immersive sound and tight, accurate bass for a captivating experience with every setting.
Movie Mode
Widens the sound stage and heightens dialogue and effects for immersive home theater
Music Mode Focuses the imaging and simplifies processing, resulting in accurate, uncolored reproduction for the music purist Night Mode Tailors overall output and bass response for more subdued late night viewing
Tech Specs
Total Pieces : 2
ACCESSORIES
Remote TypeInfrared : (IR)
Remote Features
Power On / Off
Mute
Volume + / –
Music Mode
Movie Mode
Center + / –
Bass + / –
Included Accessories
(1) HDMI Cable
(1) Optical Cable
(2) Power supplies: one for the sound bar, one for the subwoofer
(1) Owner?s Manual
(1) Quick Start Guide
(2) Batteries for remote
WARRANTY
Original Purchaser Only : Yes
STUDIO SLIM SOUND BAR
Qty Included : 1
Height1.81″ (4.6 cm)
Width43.39″ (110.21 cm)
Depth3.25″ (8.26 cm)
Front Array Driver Complement
(4) 1″ (2.54 cm) h x 3″ (7.62 cm) w (Oval) – Midrange
(3) 1″ (2.54 cm) d (Round) Aluminum Dome – Tweeter
ON-SHELF MOUNT
Mounting Type
Available Orientations : Horizontal
ON-WALL MOUNT
Mounting Type : Keyhole Slots
Available Orientations : Horizontal
AUDIO QUALITY
INPUTS
Audio Inputs
Google Cast : Yes
OUTPUTS
Audio Outputs
INTERNAL AMPLIFIER
Power : 70 watts
WIRELESS TECHNOLOGY
Bluetooth : Yes
Wireless : Yes
Wireless Protocol : 802.11B/G/N
Note : Built-in Wireless Subwoofer Functionality
SIGNAL PROCESSINGM
STUDIO SLIM SUBWOOFER
Total Pieces : 1
Height : 13.98″ (35.51 cm)
Width : 12.52″ (31.8 cm)
Depth : 12.52″ (31.8 cm)
Subwoofer Array Driver Complement
(1) 8″ (20.32 cm) d (Round) – Subwoofer
INTERNAL AMPLIFIER
Power100 watts