Description
Create a fantastichome theater experience
I typically seetwo main reasons why our customersconsiderbuying a new home theater receiver. They're either replacing a sturdy-but-outdatedworkhorse that's been in their system for years. Or, they're designing a brandnew surround sound systemand want the latest A/V technology available.
Whichever camp you're in, Denon's AVR-X3700H is poised to deliver.This nine-channel, 8K-capable receiver has everything you need for afun-packed home theater experience.Let's take a closer look.
What's new for 2020?
Last year's lineup of Denon home theater receivers wasquite popular with our customers. 2020 bringseven more features to the table, including 8K video upscaling, Bluetooth transmission to headphones (think late-night movies or TV streaming), and enhanced Audio Return Channel (eARC), which lets you pass full-resolution surround sound signals from your TV to yourreceiver.
Denon has also added several gaming-optimized video processing technologies for a smooth, lag-free video game experience (a feature set I'm particularly eager to try out).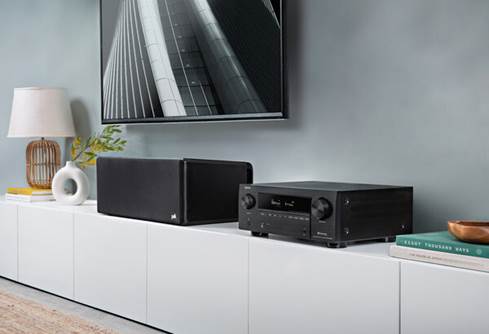 Denon's AVR-X3700H helps deliverexciting home theater soundfor movies and TV shows, video games, and music.
Set this flexible receiver up your way
The AVR-X3700Hhasoutputs for 11 speakers, and it can power up to nine at the same time. This gives you the flexibility to choose fromdifferent home theater and wired multi-room music configurations.
Use all nine channels in a 5.1.4 or 7.1.2 Dolby Atmos? or DTS:X? system, or go with a more modest surround sound setup and repurpose the extra channels for music in another zone.
And with "old school" features like composite and component video switching,this nine-channel powerhouse will play virtually any source you throw at it.
Enjoy music your way
If you're like me, you'll use your new receiver to play music in addition to watching movies.The AVR-X3700H lets you streamtunes from your phone or tablet through Wi-Fi, Bluetooth, and even AppleAirPlay 2.
Love spinning vinyl? This receiver has a built-in phono input for your turntable. And if you've carefully curated an awesome music library, you can play high-resolution tracks from a USB drive or networked computer.