Description
Add music anywhere with Denon's powerful wireless speaker
Tons of tunes, available all the time, playing in any room, controlled wirelessly. That's what Denon's HEOS multi-room music system offers. The HEOS 7 is a wireless powered speaker that can fill a large room with sound — perfect for a large kitchen, living room, or open floor-plan. Plug it in, download the free HEOS app to your Apple® or Android™ device, and you'll be listening to music in no time.
Listen to your music or stream from online services
HEOS offers no shortage of ways to listen to music. The free app will let you play music stored on your smartphone or tablet and create your own playlists. You can also access free online radio stations via TuneIn radio. If you're a Spotify, TIDAL, SiriusXM, or Rhapsody subscriber, you'll have access to their huge music libraries, too. Pandora Internet radio also offers lots of choices for both free users and subscribers. Stay tuned as HEOS will be adding other popular online music services as well.
Stream from your computer, or pop in a USB memory stick
The HEOS 7 offers another easy way to play your digital music. You can stream music stored on your networked computer or network-attached storage (NAS) device via DLNA, so your entire digital library is at your fingertips and ready for playback. Or, load your files onto aUSB thumb drive, pop it into the HEOS 7's rear-panel USB port, and select and play your tunes with the HEOS app. You can also stream these songs to other HEOS devices for multi-room playback. There's also a 3.5mm miniplug input so you can do the same with an iPod or other portable music player.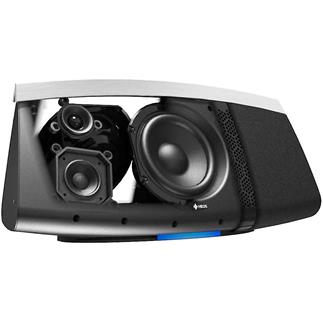 The HEOS 7's five amplifiers and five drivers deliver enough sound to fill a large room (shown in Black).
Built-in Wi-Fi® for easy setup
Getting your HEOS speaker up and running is a snap. It works with your existing Wi-Fi network — no need to plug any device into your router. Once your HEOS 7 speaker is set up, it can communicate over Wi-Fi with your smartphone or tablet via the free HEOS app, as well as with other HEOS devices to play music throughout your home. Just download the app and follow the simple instructions. An included cable allows the app to automatically transfer your Wi-Fi settings from your device for fast, easy setup.
Denon's legendary sound quality
If you think that a wireless speaker might not deliver much sound, think again. The HEOS 7 has plenty of power pushing its five built-in drivers to kick out enough sound to fill a large room. But it's not just about volume. Denon has a rich history of great-sounding stereo and home theater gear, and it shows in this speaker's performance. You get lots of high-frequency clarity, natural-sounding midrange, and more than enough deep, punchy bass to get the party started. Want to tune the bass and treble to your taste? The HEOS app offers tone controls to dial in the perfect sound for each of your HEOS speakers.
Great for large rooms
With its ability to effortlessly deliver clean, powerful sound, the HEOS 7 is ideal for a large living room, family room, or kitchen. It's also great for homes with open floor-plans.