Description
Streamlined surround sound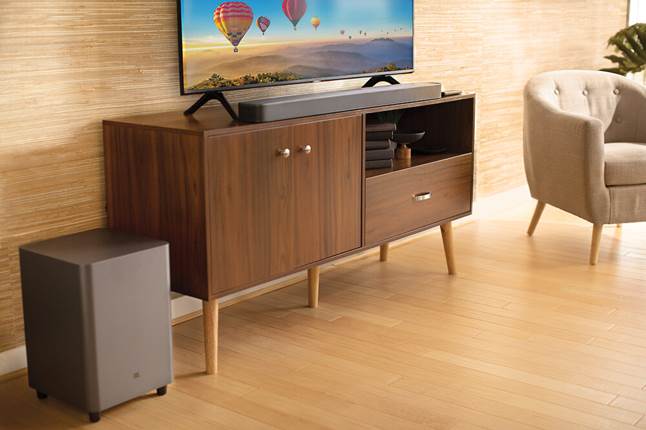 The Bar 5.1 Surround's front- and side-firing drivers combine with a sizeable wireless sub to create an immersive experience.
Not everyone has the space or inclination to fill their living room with speakers. Fortunately, some sound bars — like JBL's Bar 5.1 Surround — are able to pack big soundinto a streamlined package.
The bar stands less than2-1/2 inches tall, so it should fit easily under most TVs. Butit's wide and deep enough to include five long-excursion full-range drivers, along with a pairof side-firing tweeters for enveloping surround effects.
The included sub has a hefty 10″ down-firing woofer to deliver big impact on the low end. This sizeable sub isnot what I'd call compact, but it's wireless so you've got the flexibility to tuck it almost anywhere in your room.
A good match for your TV
The Bar 5.1 Surroundhas 4K video passthrough with support for Dolby Vision™, so you can get rich soundpicture quality with simple HDMI connections — one from your 4K video source to your sound bar and then one from your sound bar to your TV.
The right sound for your room
The Bar 5.1 Surround features JBL's MultiBeam™ technology. Combine that proprietary digital sound processing with side-firing tweeters that are cleverly angled to leverage room reflections, and you get a panoramic and immersiveviewing experience. The bar also has a built-in calibration microphone so it can adjust the sound to suit your particular room.
Options for music
This system has built-in Bluetooth and Wi-Fi — with support for Chromecast built-in and Apple AirPlay 2—so you can wirelessly stream audio content almost any way you like.