Description
Enveloping Atmos sound ? the easy way
Here's yet another cool, feature-packed sound bar from the audio experts at JBL. The Bar 9.1 delivers a complete 5.1.4-channel system in a streamlined package, with very minimal effort. Like its wildly popular forerunner? theJBL Bar 5.1 ? it includes 100% wire-free surround speakers. But the new Bar 9.1 expands the sound field vertically with four up-firing drivers ? a pair in the main bar and a pair in the surround speakers. These deliver the expansive height effects of both Dolby Atmos and DTS:X content.
Add the included wireless subwoofer into the mix, and you've got an immersivehome theater experiencewithout the need to run wires all over the room.Plus the system's calibration feature can capturethe room's reflections and optimizethe sound to suit your space.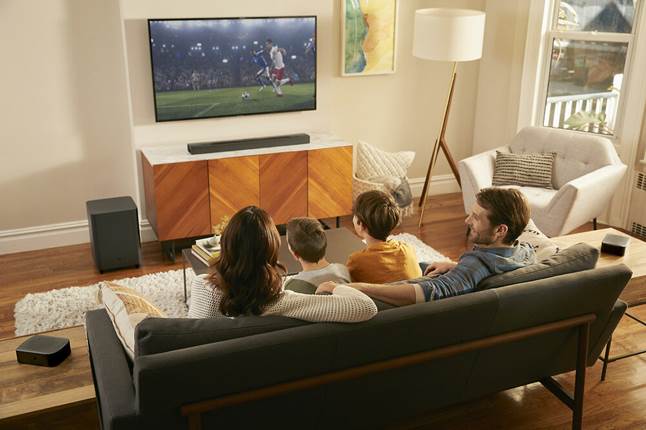 The JBL Bar 9.1 delivers spacious sound without sacrificing space in your living room.
Power up
The surround speakers recharge when theyare connected to the sound bar. A full charge takes about three hours. But on that single charge, you get full surround sound for up to 10 hours. Punchy, precise bass is provided by the down-firing10-inch subwoofer.
The sub also receives signals wirelessly from the bar, so you can place it wherever you find convenient. But unlike the surround speakers, you will need to connect it toan AC outlet? it needs power to deliver that low-end rumble.
Room-friendly design
The bar is short enough to fit under most TVs on a stand, but JBL has includedbrackets for wall-mounting both the bar and the surround speakers for a super-streamlined look.
Modern connections
The Bar 9.1 has 4K video passthrough with support for Dolby Vision?, so you can get rich soundpicture quality with simple HDMI connections ? one from your 4K video source to your sound bar and then one from your sound bar to your TV. It also supports eARC (enhanced Audio Return Channel), so it can receiveuncompromised audio signals ? like Dolby Atmos ?from an eARC-equipped TV.
Options for music
This system has built-in Bluetooth and Wi-Fi ? with support for Chromecast built-in and Apple AirPlay 2?so you can wirelessly stream audio content almost any way you like.