Description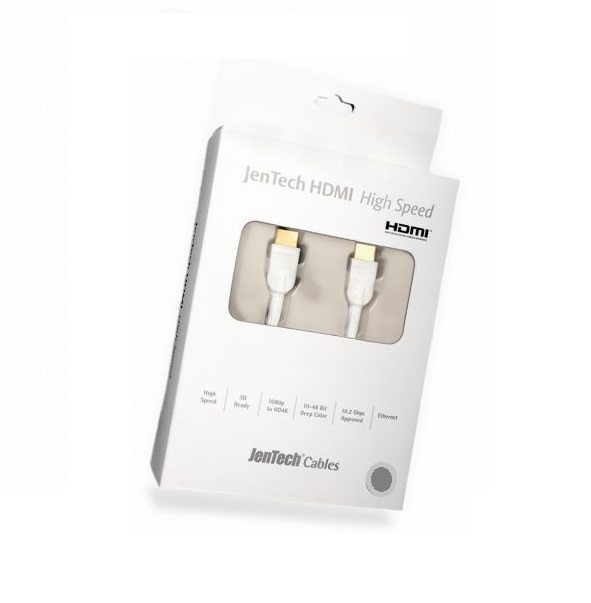 JenTech HDMI Cable -High Speed with Ethernet (v2.0)
HDMI Ethernet Channel adds a data channelto the HDMI cable to enable high-speed bi-directional communication. Send and receive data via100Mb/sEthernet, making them instantly ready for any IP-based application.

Audio Return Channel allows any HDMI- connected TV with a built-in tuner to send audio data "upstream" to surround audio system, eliminating the need for a separate audio cable. The cable is approved by HDMI ATC.

3D over HDMIdefines input/output protocolsfor major 3D video formats, paving the way for true 3D gaming and 3D home cinema applications.

4K UltraResolution Support enables video resolutions farbeyond fullHD (1080p).

Supports: 3840 x 2160 24Hz/25Hz/30Hz,4096 x 2160 24Hz

Expanded Support for modern Color Spaces: Supporting sYCC601,Adobe RGB and Adobe YCC601.
Features and benefits
High Speed HDMI with Ethernet and fully compatible with any lower standard of HDMI making it backwards compatible

Perfect for HDMI devices that offers HDMI Mini C, such as digital kameras, eReaders and other portable devices

24K goldplated connectors ensure superior signal transfer andlong service life due to corrosion resistance

Oxygen-free copper, tripple-shielded cable to securestable data transmission and signal integrity

Nylon mesh provides maximum durability against wear andtear, and resistance tohighertemperature

Triple-shielded to minimise RFI, hence reducing noise floor, improve picture sharpness and flicker-free video

Cost-efficient, probably the best cable in this price segment.
Technical Info
Mechanical Specifications