Description
You don't come across many companies that have been in business for 100 years. Founded in 1883 as a manufacturer of musical boxes and clocks, Thorens started building Edison-type cylinder phonographs in 1903 and has been making turntables ever since. Although the company branched out into audio electronics in the '90s, it remains a steadfast bearer of fine turntables. Its latest specimen is the ultra-modern TD 209, which borrows design cues from its higher-end sibling, the TD 309.TD 209 turntable isthe younger siblings of the revolutionary, multiple-award-winning TD 309. However, it don't have to live in the shadow of their older brother. It isbuilt using only high-quality materials and parts. And share a number of technical features with the TD 309, ensuring that their replay quality is up there with the best.
The new TP 90 tonearm is based on the tried-and-tested TP 92 and uses the same ultra-low-friction, high-performance bearing and the innovative zero-stiction anti-bias system. The arm tube is made from rolled aluminium that is damped using RMR technology (reduced-modal-resonance), and the stainless-steel counterweight at the end of the arm tube is double-decoupled. Tonearm height, azimuth and overhang are user adjustable.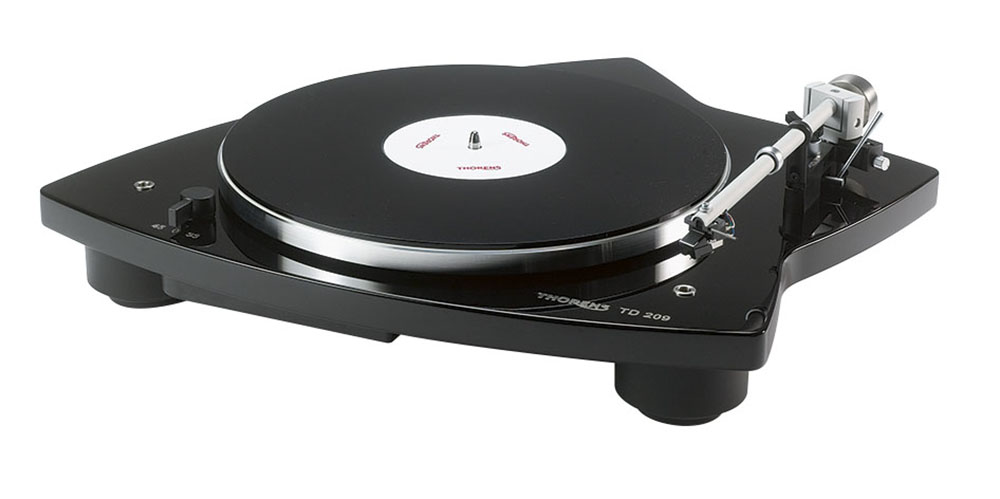 Operation ………………manual
Drive System ……………….. belt-drive (flat belt around sub-platter)
Motor …………………………..servo-controlled DC motor
Speeds ……………………….. 33-1/3, 45 rpm
Speed Change ………………. Electronic
Platter …………………………. 12" / 0.9 kg (aluminium/acrylic)
Tonearm ………………………. THORENS® TP 90
Pick-up Cartridge ……………. THORENS® TAS 267
Anti-skating (Bias) ………….. by magnet
Automatic Shut-off …………. none
Power Supply ……………….. external plug-in power supply, 12 V DC/AC, 6 W min.
Dimensions ………………….. 475 x 125 x 370 mm (W x H x D)
Weight ………………………… 5.6 kg
Finish …………………………. MDF plinth with laquer in red, black or white (high gloss)